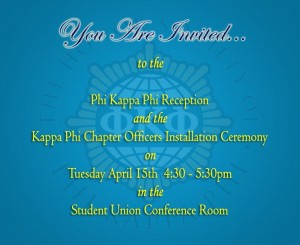 As we come to the close of another successful semester, we hope that ALL of our Student, Faculty, and Staff members will drop by the Phi Kappa Phi Reception from 4:30-5:30PM to meet and acknowledge our members who participated in the Student Research Conference (SRC) and then stay for a very brief Installation Ceremony for our 2014-2015 Phi Kappa Phi Chapter Officers.  Please see below the slate of candidates for faculty/staff officers; in lieu of an additional business meeting this spring, we invite you to send to our Chapter Secretary any comments you have regarding this slate.  Thank you, and we hope to see you on the 15th.
2014-2015 Chapter Officers Slate
President-Elect –Dr. Jack Holcomb, Director of the Center for Academic Excellence
Vice-President for Service-Laura Bates, Director of Student Involvement and Campus Activities
Secretary- Zac Burden, Missouri Hall Director
The Reception with refreshments will begin at 4:30 p.m. and short installation ceremony will occur from 5:00-5:15 p.m. in the Student Union Conference Room.