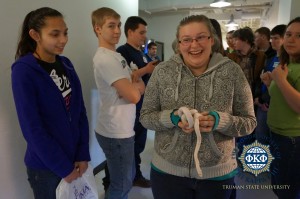 The chapter continued its work this past spring with students in a local school district. The idea has been to help get middle school students on a college campus so they can begin to picture themselves being on one as college students in the future. This past year, under the leadership Vice President Diane Johnson, the chapter showed students a variety of campus activities and venues.
The students began with lunch in Missouri Hall, something that immediately received high praise as they enjoyed the all-you-can eat setup. Students got to see Cantoria practice. The group moved over to the Severns Theater where Professor Ron Rybkowski gave a demonstration on lighting. He showcased how science and art collide in costuming and lighting work. The students listened to a wind symphony rehearsal. After that, it was off to the herpetology lab where students got to handle many of the snakes, reptiles, and amphibians. They ended with a tour of the Student Recreation Center led by Director Sue Limestall. Sue is also a member of our chapter.
The project will continue this year under the leadership of Laura Bates, the chapter's new Faculty/Staff Vice President for Service. This a great service opportunity for chapter members who enjoy service and/or are looking to go into education of any kind. If you're looking to get involved, be sure to email Laura at lbates@truman.edu.