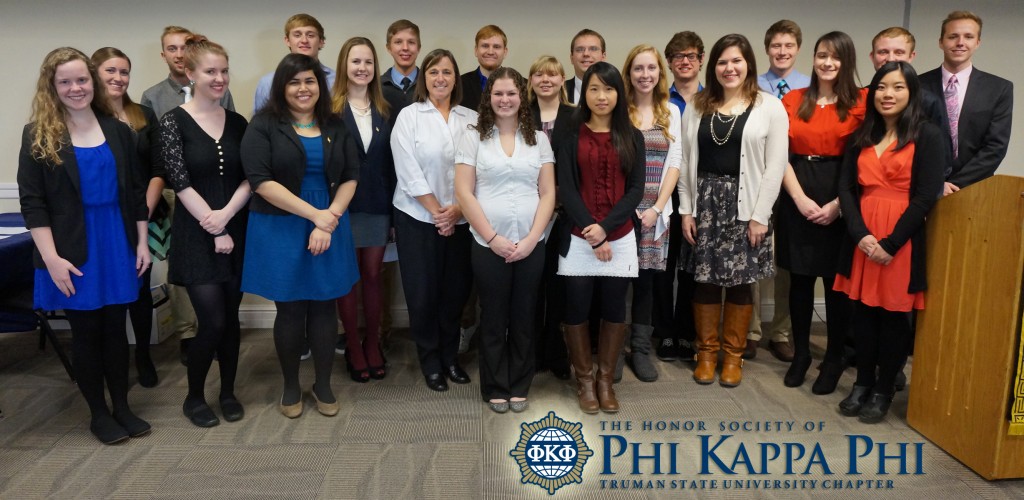 On Sunday, November 16, 2014, 33 students became the newest members of our chapter. The event began with a reception and refreshments at 2:30. The event featured music by Taylor Jokerst, a Society member.
The keynote speaker was Dr. Susan Thomas, Truman's Executive Vice President for Academic Affairs and Provost. Dr. Thomas titled her keynote "Be a Bulldog and a Cat!" She encouraged all the high achieving students to take risks and climb to high places, even if there is a chance they might fall. The trick is always landing on your feet and having the courage to climb again.
This year's inductees include: Ian Ramon Abundis, Eric Balsman, Derek Benjamin, Amanda Chua, Zane DeZeeuw, Breanne Durovic, Laurie R. Hall, Lester Dominick Hubble, Clara Elizabeth Hughes, Brian Steven Jacob, Julia Judlin, Shelby Kane, Olivia Catherine Lanser, Kira Chatham, Connor Madden, Charlotte Merrigan, Megan O'Brien, Christian Alexander Scott Pierce, Anna Selle, Ramolaa Shah, Amanda E. Shreves, Ryan Staines, Rosalie Swingle, Kaytlin Tippin, Megan A. Todd, Rosemary Truman, Danielle Marie Vassallo, Charles R. Walde, Zachary Wenig, Ian Wohlstadter, Ashton Nicole Wolter, Lynnea D. Wootten, Bing Zheng.